JM-8177 Wholesale Screwdriver Set with CRV Magnetic Hex Torx Slotted Phillips Pentalobe Drive Bits 106 in 1
Product Description
#detail_decorate_root .magic-0{border-bottom-style:solid;border-bottom-color:#bbb;font-family:Roboto;font-size:24px;color:#000;background-color:#bbb;font-style:normal;border-bottom-width:2px;padding-top:8px;padding-bottom:4px}#detail_decorate_root .magic-1{vertical-align:top}#detail_decorate_root .magic-2{vertical-align:top;display:block;padding-right:4px;box-sizing:border-box;padding-left:4px}#detail_decorate_root .magic-3{vertical-align:top;padding-bottom:4px;box-sizing:border-box;padding-top:4px}#detail_decorate_root .magic-4{padding:0;margin:0;white-space:pre-wrap;font-size:14px}#detail_decorate_root .magic-5{text-align:center}#detail_decorate_root .magic-6{font-size:24px}#detail_decorate_root .magic-7{vertical-align:top;display:inline-block;padding-right:4px;width:50%;box-sizing:border-box;margin-bottom:-4px;padding-left:0;margin-top:-4px}#detail_decorate_root .magic-8{width:375px;height:294px;overflow:hidden}#detail_decorate_root .magic-9{position:relative;left:0;top:0;width:375px;height:285.9375px}#detail_decorate_root .magic-10{vertical-align:top;display:inline-block;padding-right:4px;width:50%;box-sizing:border-box;margin-bottom:-4px;padding-left:0;margin-top:-4px;margin-left:-3px}#detail_decorate_root .magic-11{width:364px;border-collapse:collapse}#detail_decorate_root .magic-12{min-height:18px;padding:5px 10px;width:90px;min-height:18px;box-sizing:content-box}#detail_decorate_root .magic-13{min-height:18px;padding:5px 10px;width:228px;min-height:18px;box-sizing:content-box}#detail_decorate_root .magic-14{text-align:left}#detail_decorate_root .magic-15{font-family:inherit;font-size:inherit;font-style:inherit;font-variant-ligatures:inherit;font-variant-caps:inherit}#detail_decorate_root .magic-16{width:750px}#detail_decorate_root .magic-17{overflow:hidden;width:750px;height:772px;margin-top:0;margin-bottom:0;margin-left:0;margin-right:0}#detail_decorate_root .magic-18{margin-top:0;margin-left:0;width:750px;height:750px}#detail_decorate_root .magic-19{font-size:24px;font-weight:normal}#detail_decorate_root .magic-20{margin-bottom:10px;line-height:0}#detail_decorate_root .magic-21{margin-bottom:0}#detail_decorate_root .magic-22{position:relative;width:100%}#detail_decorate_root .magic-23{width:446px}#detail_decorate_root .magic-24{overflow:hidden;width:446px;height:510.24245228020686px;margin-top:0;margin-bottom:0;margin-left:0;margin-right:0}#detail_decorate_root .magic-25{margin-top:0;margin-left:0;width:446px;height:512px}#detail_decorate_root .magic-26{width:300px;display:flex;flex-direction:column;margin-right:0;margin-left:4px}#detail_decorate_root .magic-27{font-size:18px}#detail_decorate_root .magic-28{width:300px;display:flex;flex-direction:column;margin-right:4px;margin-left:0}#detail_decorate_root .magic-29{box-sizing:border-box;margin:0;padding:0;color:#2e3033;font-family:Arial,"Microsoft YaHei","\\5FAE软雅黑","\\5B8B体","Malgun Gothic",Meiryo,sans-serif;font-style:normal;font-variant:normal;letter-spacing:normal;line-height:14px;text-align:start;text-indent:0;text-transform:none;white-space:normal;word-spacing:0;-webkit-text-stroke-width:0;background-color:#fff}#detail_decorate_root .magic-30{box-sizing:border-box;margin:0 0 10px;padding:0;list-style:none}#detail_decorate_root .magic-31{box-sizing:border-box;margin:0;padding:0;color:#666;line-height:20px}#detail_decorate_root .magic-32{orphans:2;text-align:start;text-indent:0;widows:2;text-decoration-style:initial;text-decoration-color:initial;float:none;display:inline !important}#detail_decorate_root .magic-33{color:#333;font-family:"Helvetica Neue",Helvetica,Arial,sans-serif,宋体;font-style:normal;font-variant-ligatures:normal;font-variant-caps:normal;letter-spacing:normal;text-transform:none;white-space:normal;word-spacing:0;-webkit-text-stroke-width:0;background-color:#fff}#detail_decorate_root .magic-35{font-family:"Helvetica Neue",Helvetica,Arial,sans-serif,宋体;font-style:normal;font-variant-ligatures:normal;font-variant-caps:normal;white-space:normal;font-size:18px}#detail_decorate_root .magic-36{font-family:"Helvetica Neue",Helvetica,Arial,sans-serif,宋体;white-space:normal;font-size:18px}#detail_decorate_root .magic-37{color:#333;font-family:"Helvetica Neue",Helvetica,Arial,sans-serif,宋体;font-size:14px;font-style:normal;font-variant-ligatures:normal;font-variant-caps:normal;font-weight:400;letter-spacing:normal;orphans:2;text-align:start;text-indent:0;text-transform:none;white-space:normal;widows:2;word-spacing:0;-webkit-text-stroke-width:0;background-color:#fff;text-decoration-style:initial;text-decoration-color:initial;display:inline !important;float:none}#detail_decorate_root .magic-38{overflow:hidden;width:446px;height:486.43733333333336px;margin-top:0;margin-bottom:0;margin-left:0;margin-right:0}#detail_decorate_root .magic-39{margin-top:-28.544px;margin-left:0;width:446px;height:519px}#detail_decorate_root .magic-40{overflow:hidden;width:373px;height:234.05749999999998px;margin-top:0;margin-bottom:0;margin-left:0;margin-right:0}#detail_decorate_root .magic-41{margin-top:0;margin-left:0;width:373px;height:234.05749999999998px}#detail_decorate_root .magic-42{overflow:hidden;width:373px;height:234px;margin-top:0;margin-bottom:0;margin-left:4px;margin-right:0}#detail_decorate_root .magic-43{margin-top:0;margin-left:0;width:373px;height:241.05125px}#detail_decorate_root .magic-44{overflow:hidden;width:373px;height:373px;margin-top:0;margin-bottom:0;margin-left:0;margin-right:0}#detail_decorate_root .magic-45{margin-top:0;margin-left:0;width:373px;height:373px}#detail_decorate_root .magic-46{overflow:hidden;width:373px;height:373px;margin-top:0;margin-bottom:0;margin-left:4px;margin-right:0}#detail_decorate_root .magic-47{margin-bottom:10px;overflow:hidden}#detail_decorate_root .magic-48{overflow:hidden;width:750px;height:293.4375px;margin-top:0;margin-bottom:0;margin-left:0;margin-right:0}#detail_decorate_root .magic-49{margin-top:0;margin-left:0;width:750px;height:293.4375px}#detail_decorate_root .magic-50{overflow:hidden;width:750px;height:688.125px;margin-top:0;margin-bottom:0;margin-left:0;margin-right:0}#detail_decorate_root .magic-51{margin-top:0;margin-left:0;width:750px;height:688.125px}#detail_decorate_root .magic-52{overflow:hidden;width:750px;height:315.9375px;margin-top:0;margin-bottom:0;margin-left:0;margin-right:0}#detail_decorate_root .magic-53{margin-top:0;margin-left:0;width:750px;height:315.9375px}#detail_decorate_root .magic-54{overflow:hidden;width:750px;height:700.3125px;margin-top:0;margin-bottom:0;margin-left:0;margin-right:0}#detail_decorate_root .magic-55{margin-top:0;margin-left:0;width:750px;height:700.3125px}#detail_decorate_root .magic-56{font-size:28px}#detail_decorate_root .magic-57{background-color:#ffc36d}#detail_decorate_root .magic-58{overflow:hidden;width:750px;height:750px;margin-top:0;margin-bottom:0;margin-left:0;margin-right:0}#detail_decorate_root .magic-59{overflow:hidden;width:750px;height:557.8125px;margin-top:0;margin-bottom:0;margin-left:0;margin-right:0}#detail_decorate_root .magic-60{margin-top:0;margin-left:0;width:750px;height:557.8125px}#detail_decorate_root .magic-61{overflow:hidden;width:750px;height:517.5px;margin-top:0;margin-bottom:0;margin-left:0;margin-right:0}#detail_decorate_root .magic-62{margin-top:0;margin-left:0;width:750px;height:517.5px}#detail_decorate_root .magic-63{overflow:hidden;width:750px;height:840.9375px;margin-top:0;margin-bottom:0;margin-left:0;margin-right:0}#detail_decorate_root .magic-64{margin-top:-6px;margin-left:7px;width:750px;height:840.9375px}#detail_decorate_root .magic-65{overflow:hidden;width:750px;height:1011.5625px;margin-top:0;margin-bottom:0;margin-left:0;margin-right:0}#detail_decorate_root .magic-66{margin-top:0;margin-left:0;width:750px;height:1011.5625px}#detail_decorate_root .magic-67{overflow:hidden;width:750px;height:803.4375px;margin-top:0;margin-bottom:0;margin-left:0;margin-right:0}#detail_decorate_root .magic-68{margin-top:0;margin-left:0;width:750px;height:803.4375px}#detail_decorate_root .magic-69{overflow:hidden;width:750px;height:1290px;margin-top:0;margin-bottom:0;margin-left:0;margin-right:0}#detail_decorate_root .magic-70{margin-top:0;margin-left:0;width:750px;height:1290px}#detail_decorate_root .magic-71{overflow:hidden;width:750px;height:810px;margin-top:0;margin-bottom:0;margin-left:0;margin-right:0}#detail_decorate_root .magic-72{margin-top:0;margin-left:0;width:750px;height:810px}#detail_decorate_root .magic-73{overflow:hidden;width:750px;height:1100.625px;margin-top:0;margin-bottom:0;margin-left:0;margin-right:0}#detail_decorate_root .magic-74{margin-top:0;margin-left:0;width:750px;height:1100.625px} Product Description
106 in 1 Professional and
Precision Screwdriver Set
JM-8177 Best tool set to handle daily repair problems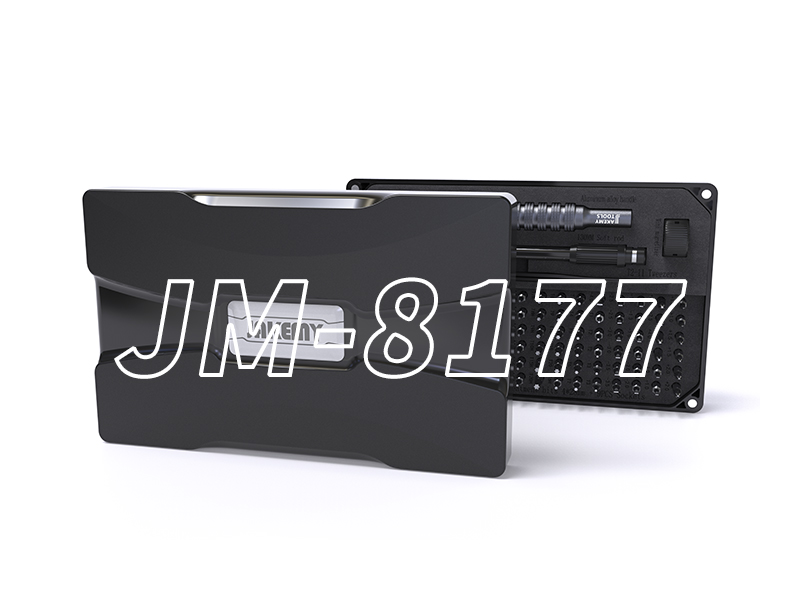 | | |
| --- | --- |
| Brand | JAKEMY |
| Name | 106 in 1 Screwdriver Set |
| Model | JM-8177 |
| Color | Black |
| Logo | Customizable |
| | |
| Bits material | CR-V |
| Handle | Aluminum alloy handle, flexible and anti-skid. |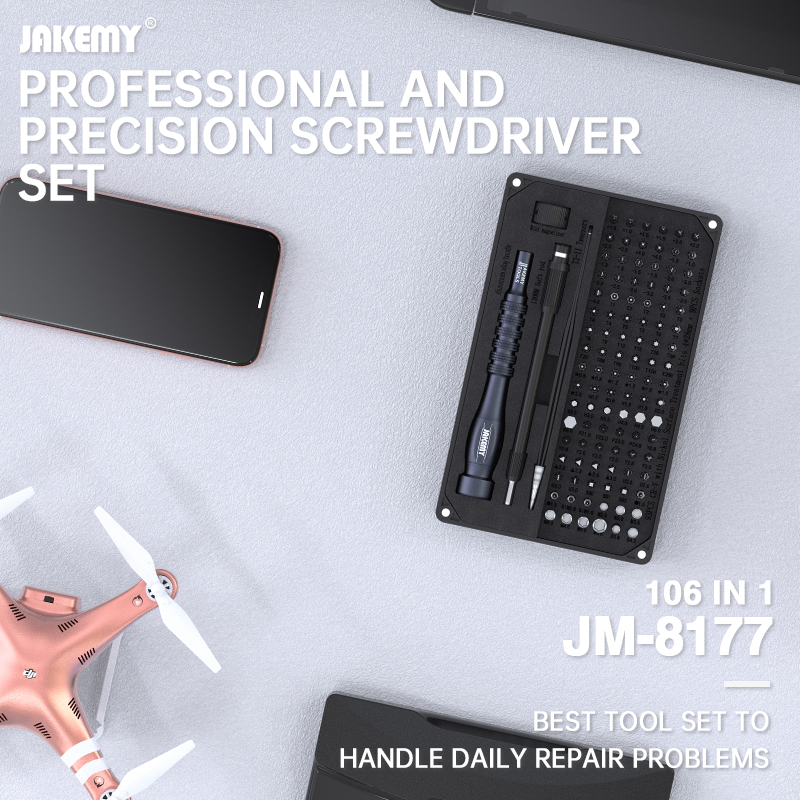 Every detail can reflect practicality, refinement and convenience.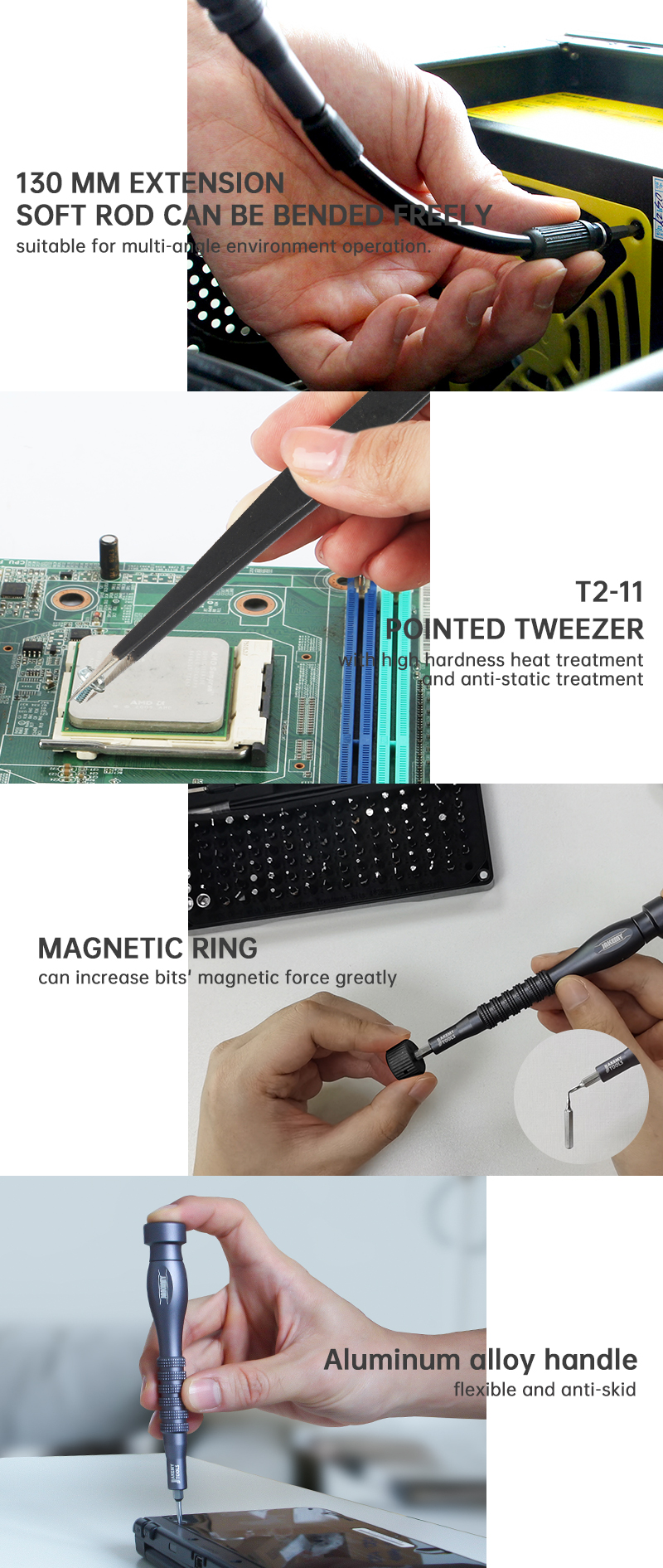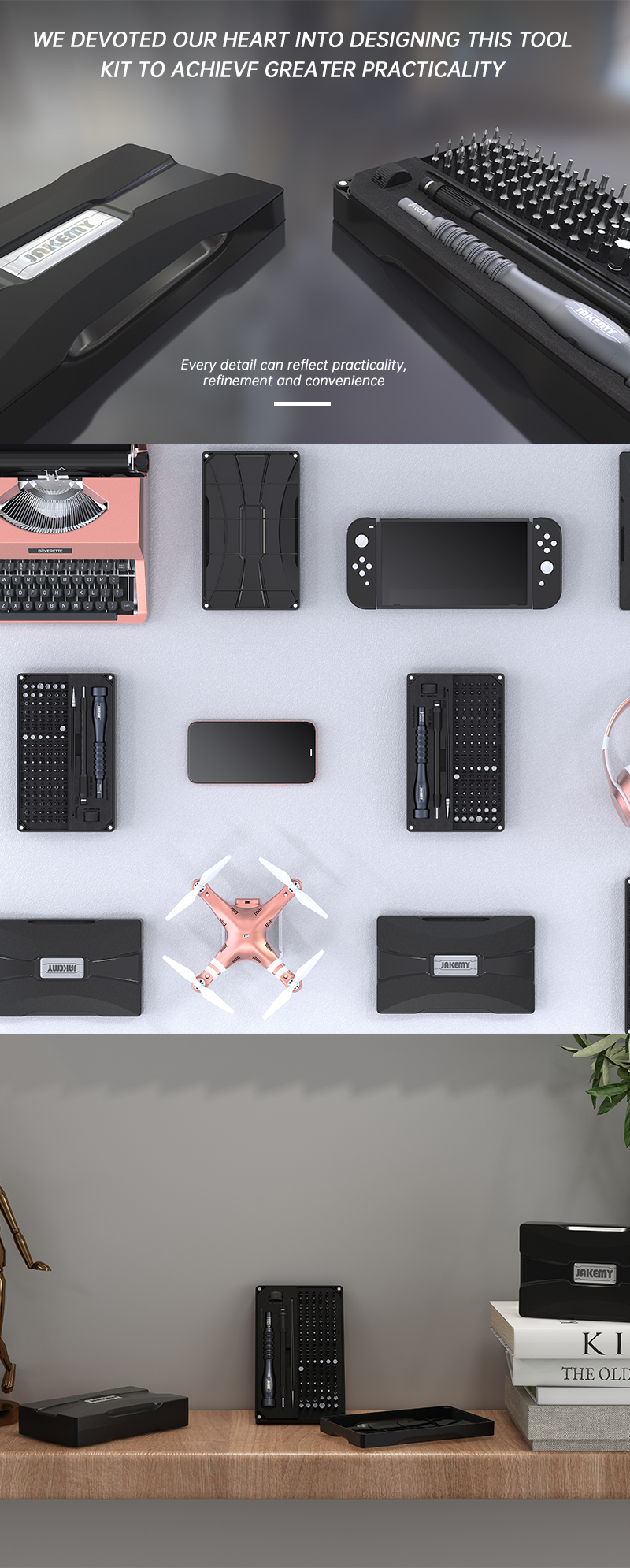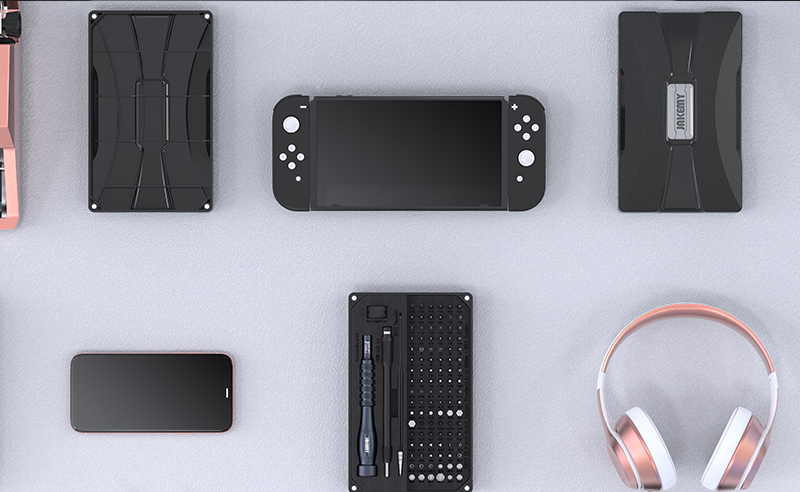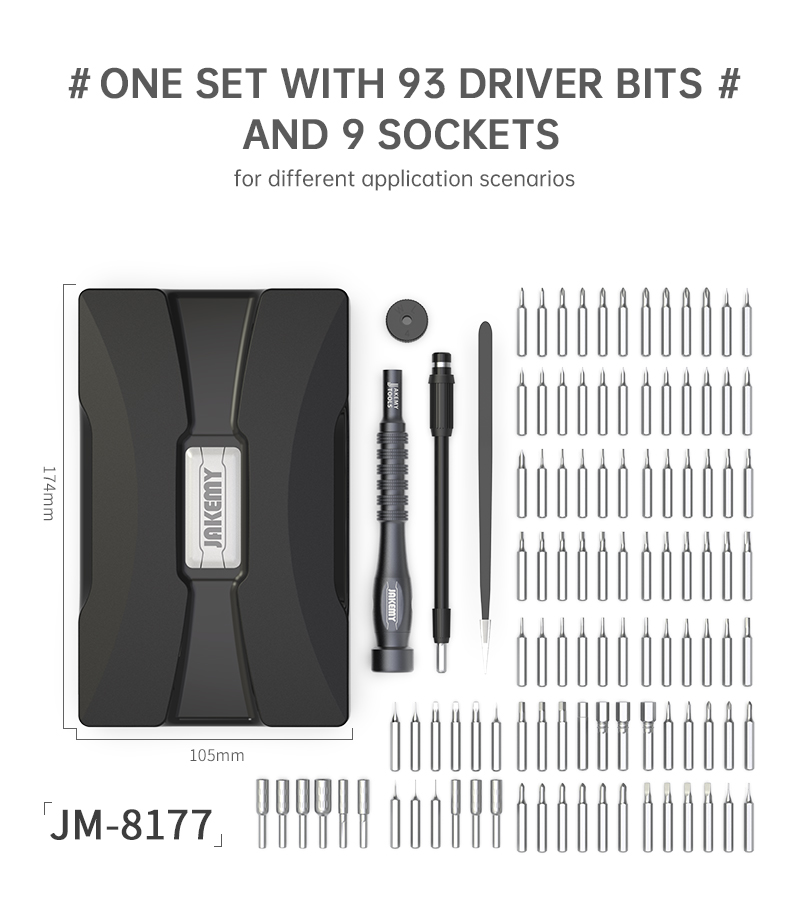 Accessories
1. 130 mm extension soft rod can be bended freely, suitable for multi-angle environment operation.
2. T2-11 pointed tweezer with high hardness heat treatment and anti-static treatment.
3. Magnetic ring can increase bits' magnetic force greatly.
4. Aluminum alloy handle, flexible and anti-skid.
Application As many as 93 drivers and 9 sockets for different application scenarios. 
They can be used to repair and disassembly precision digital products or household products like remote control model, game console, watch, eyeglass, camera, computer, etc.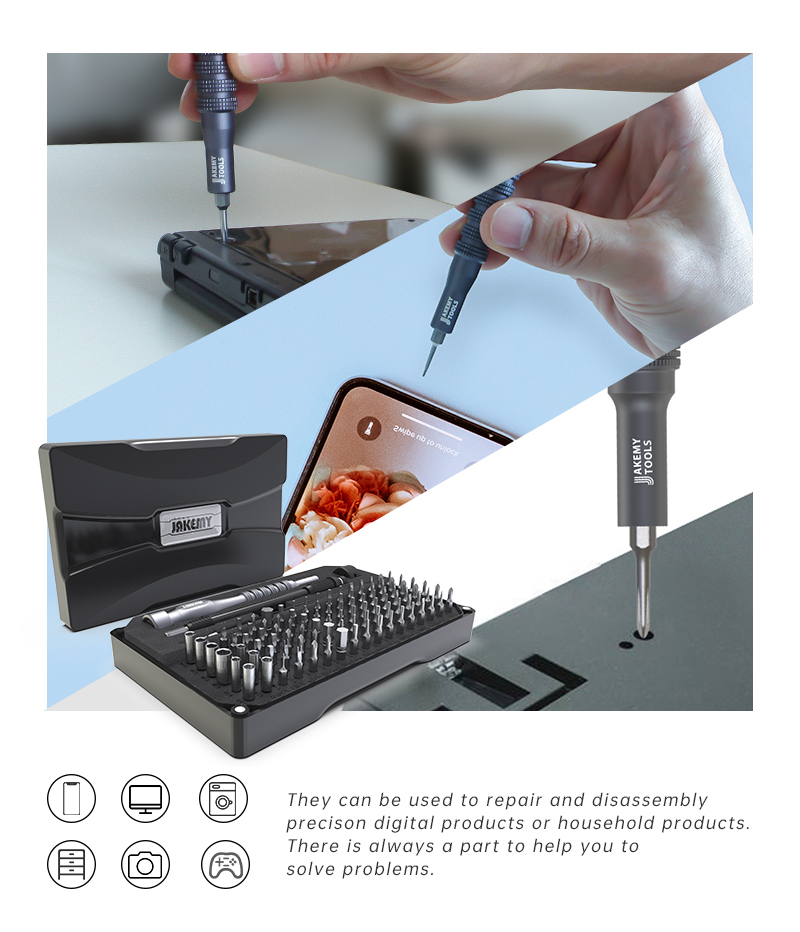 Detailed Images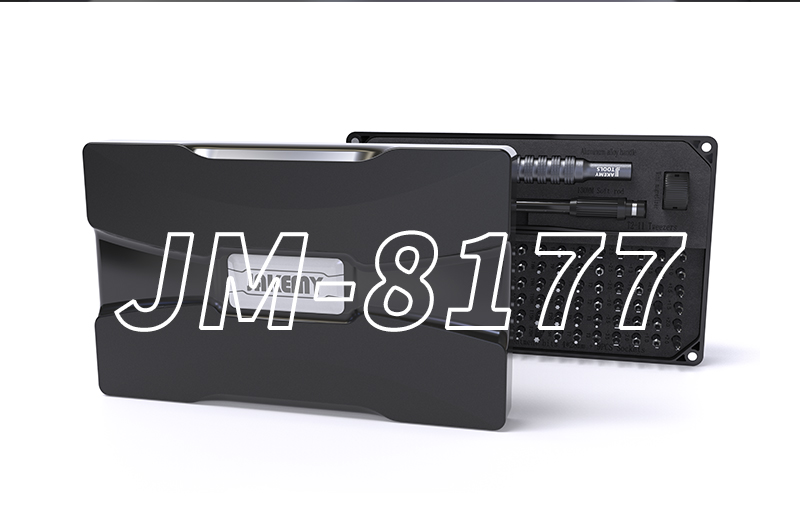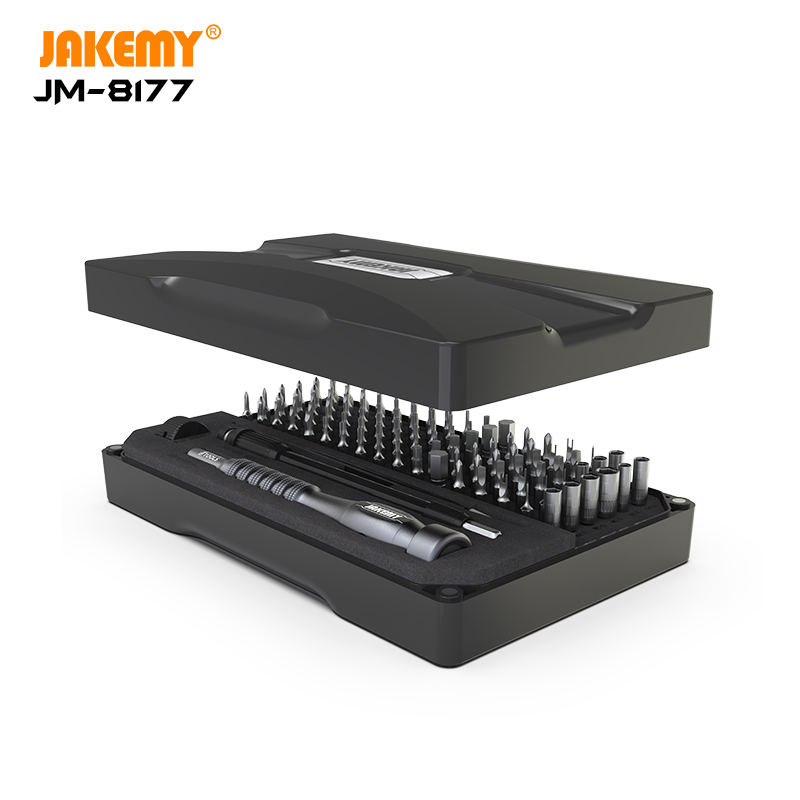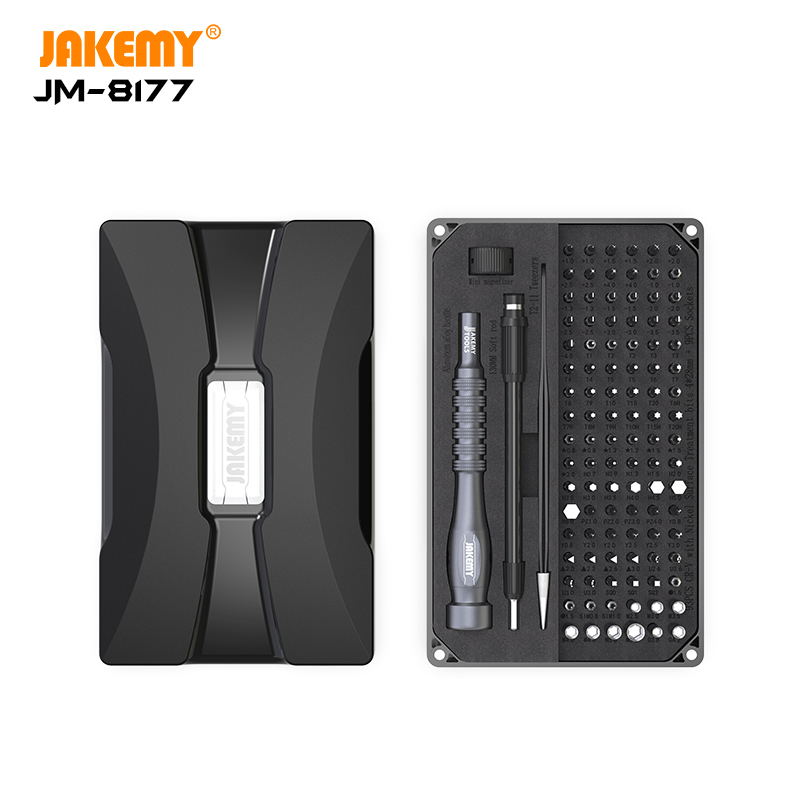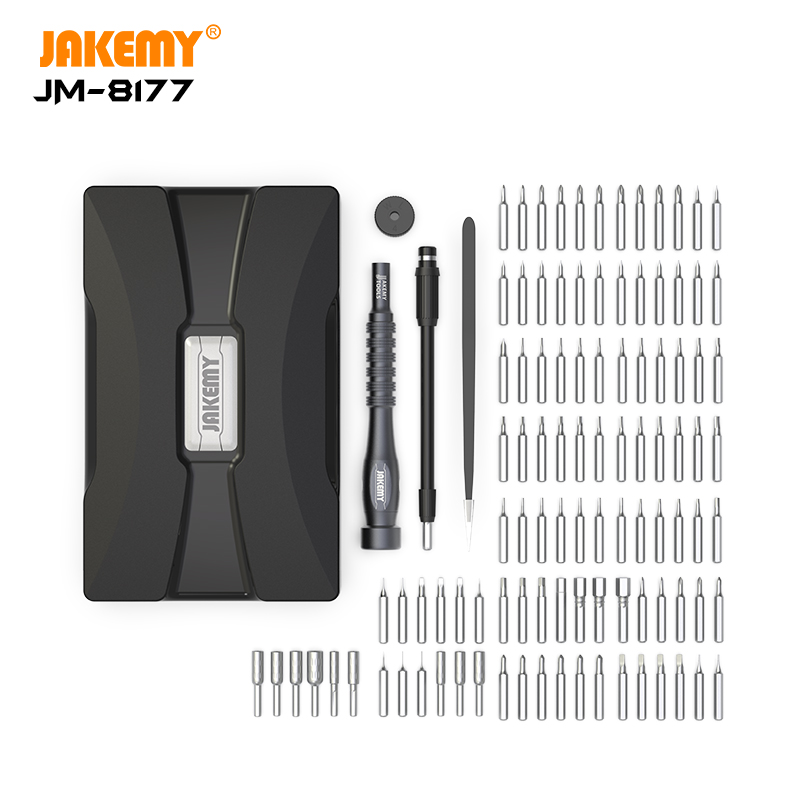 Related Products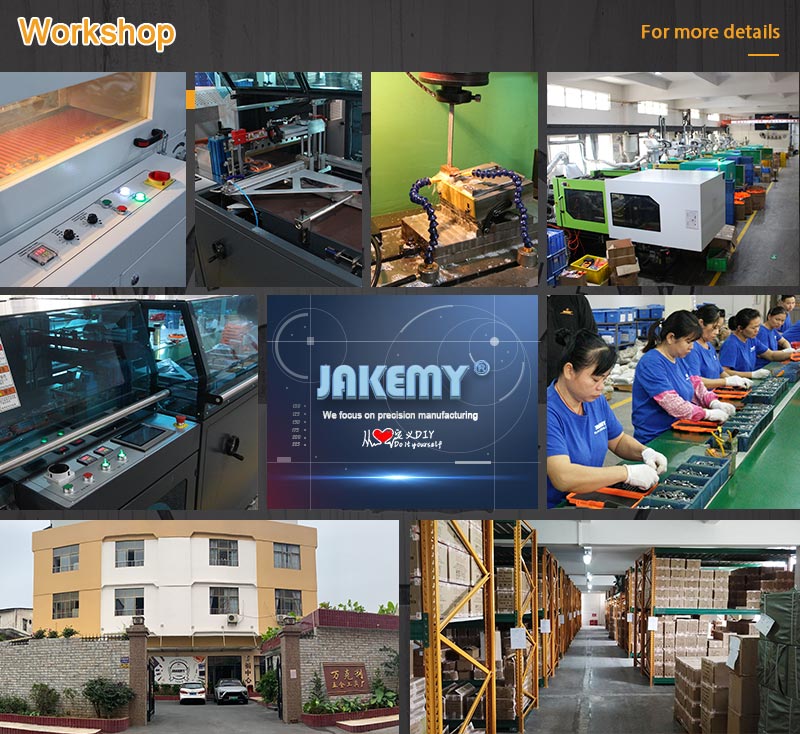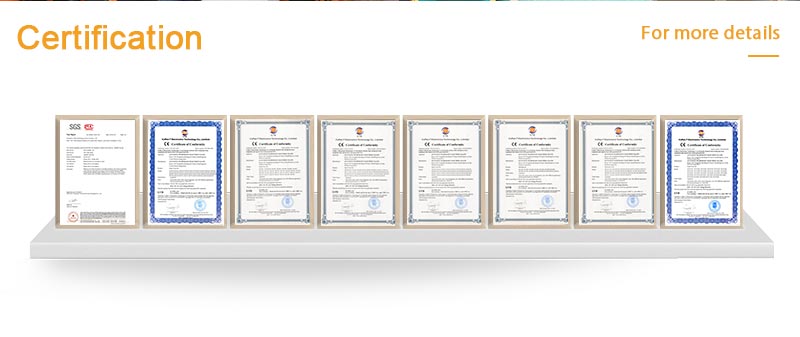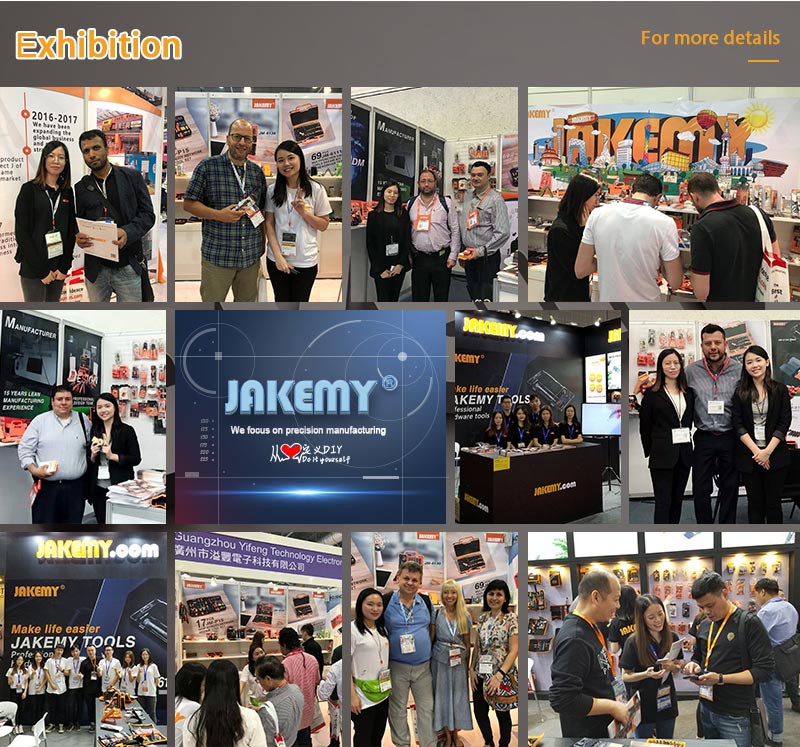 FAQ 1. Are you a factory or trading company?
A:We are a trading company and we have our own factory.
2. Where is your factory located? How can i visit there?
A: Our factory is located in Foshan City, Guangdong Province, China. It's about 10-min drive from Guangzhou FangCun Bus Station.
3. Can we use our own logo or neutral for design?
A: Yes, of course. We can provide customer with OEM & ODM. Please contact us and tell us your request in details.
4. How can I get the samples?
A: We can arrange samples for you as long as you place the order.
5. What's the payment?
A: We accept payment by T/T, L/C, Paypal and E-checking.
6. How long is our delivery time?
A: It usually takes about 3 to 7 days to deliver after payment.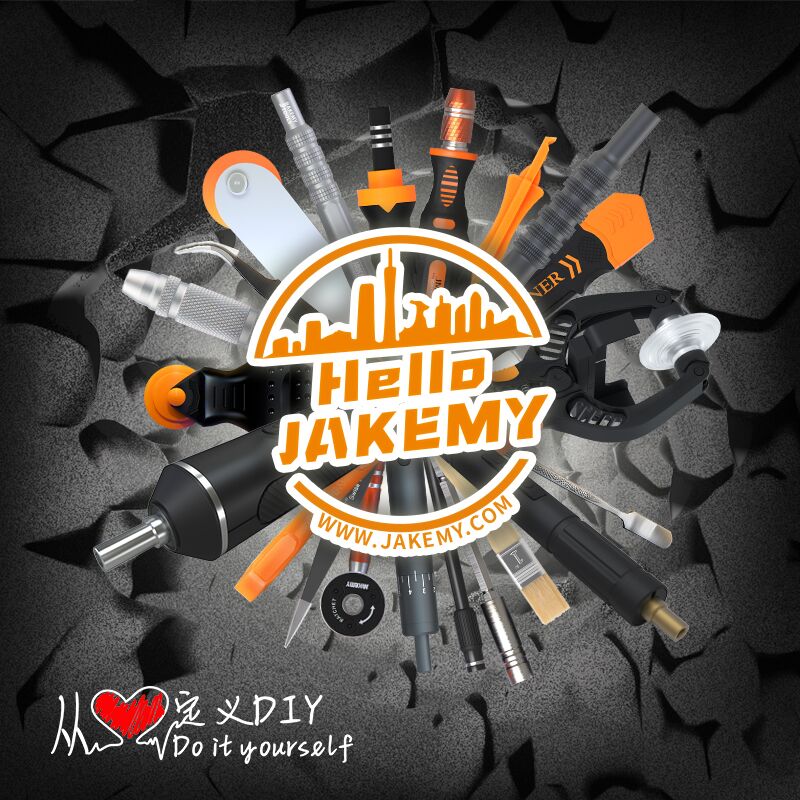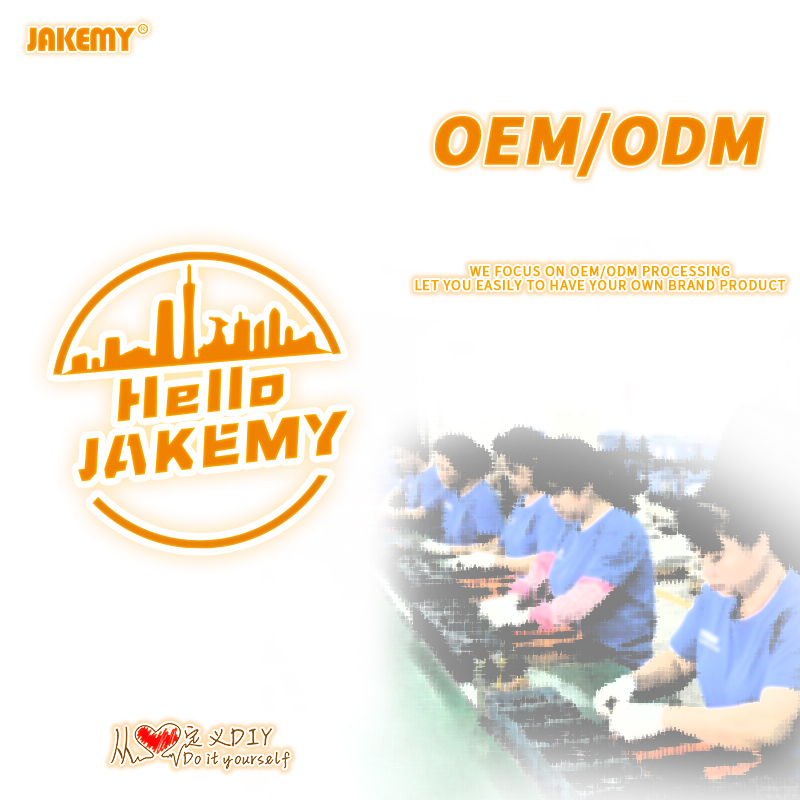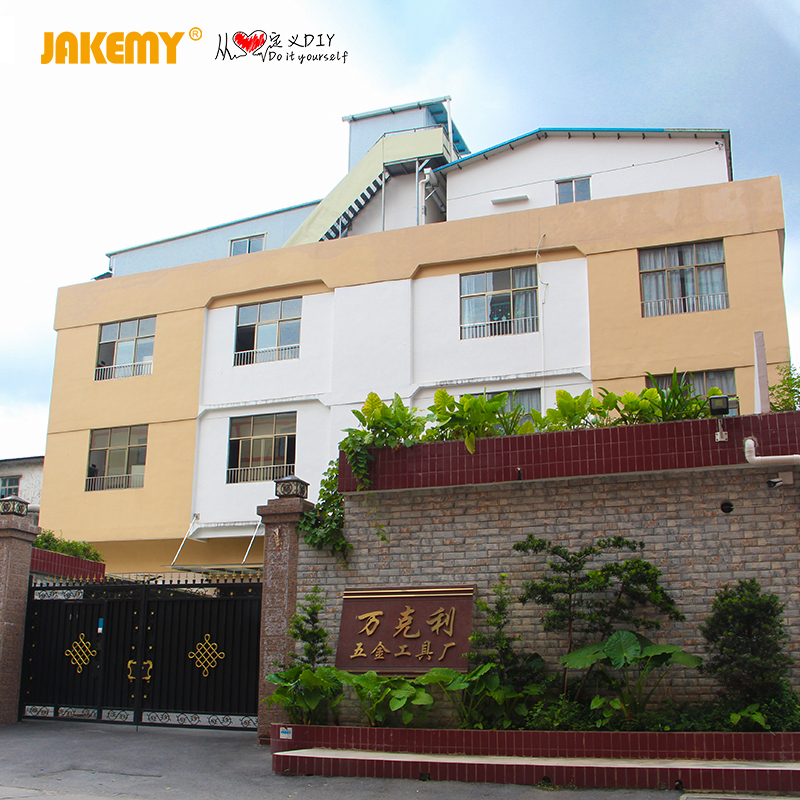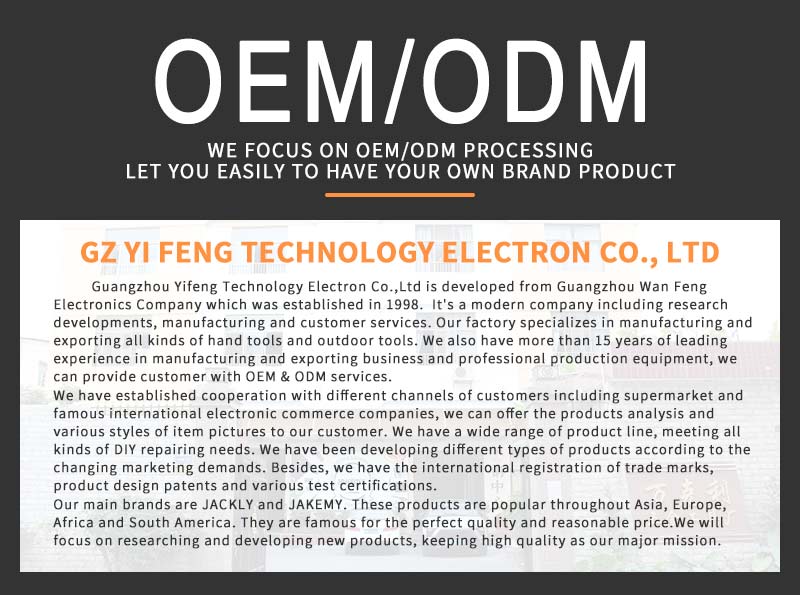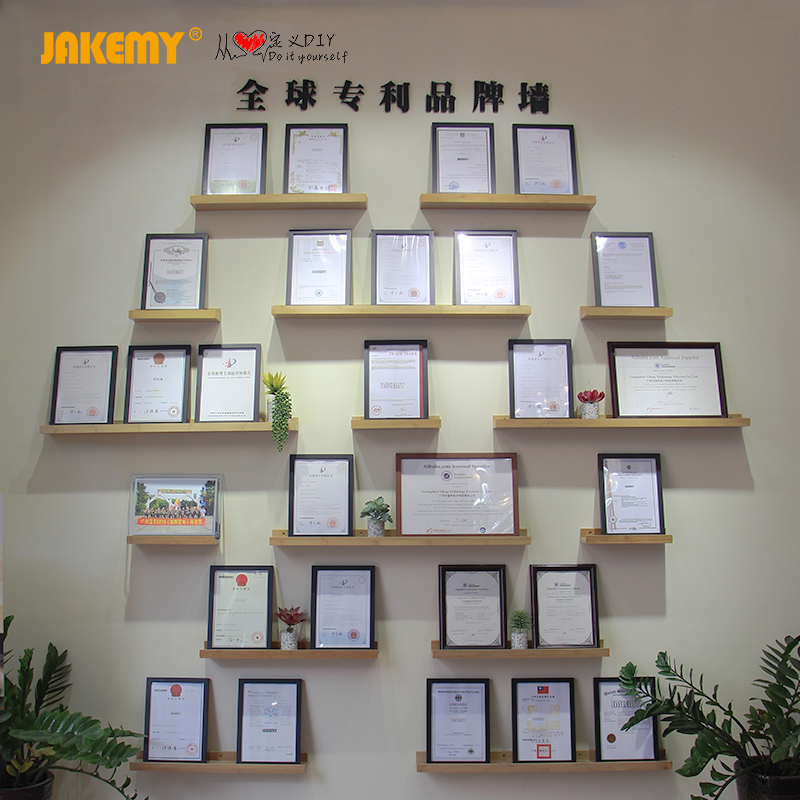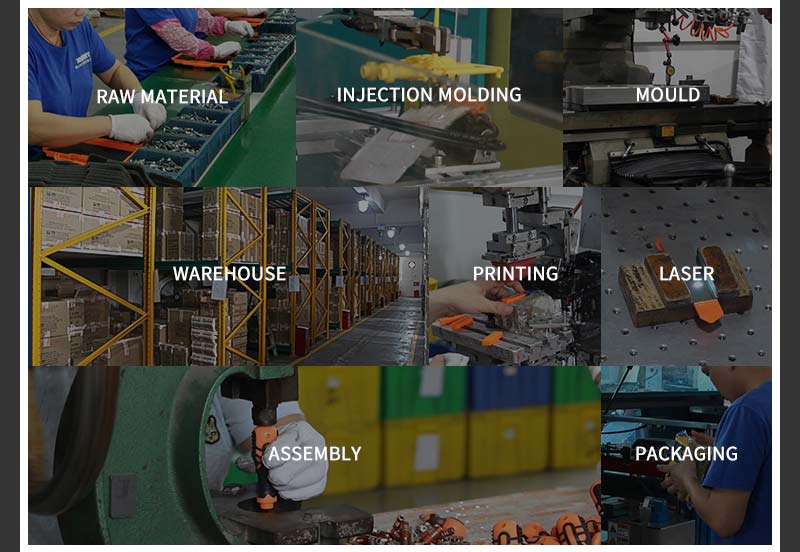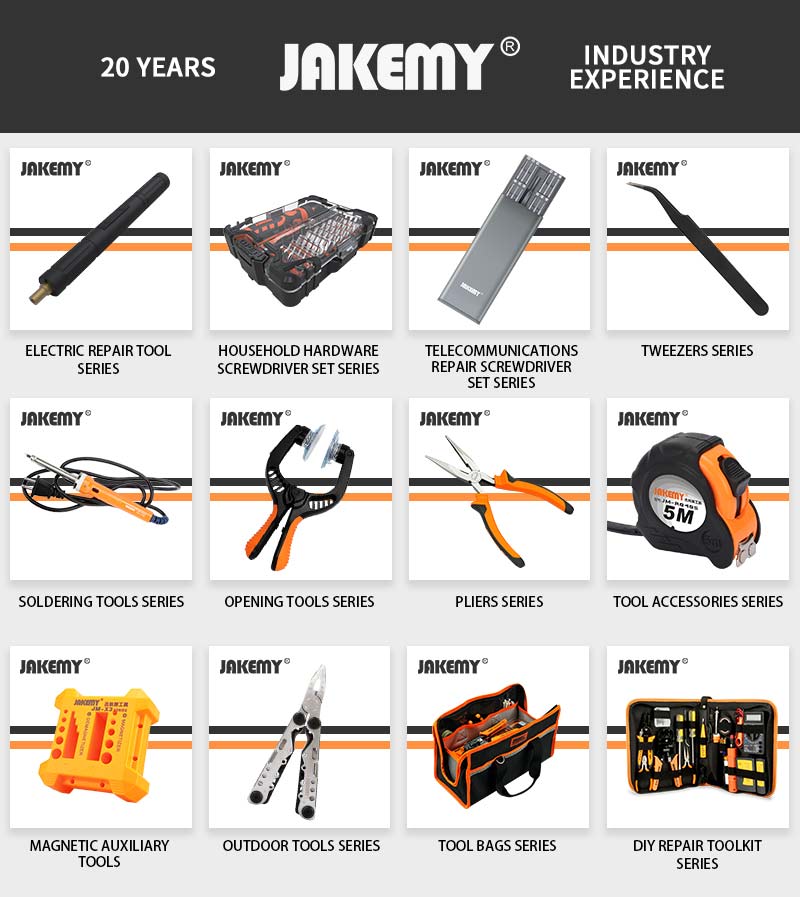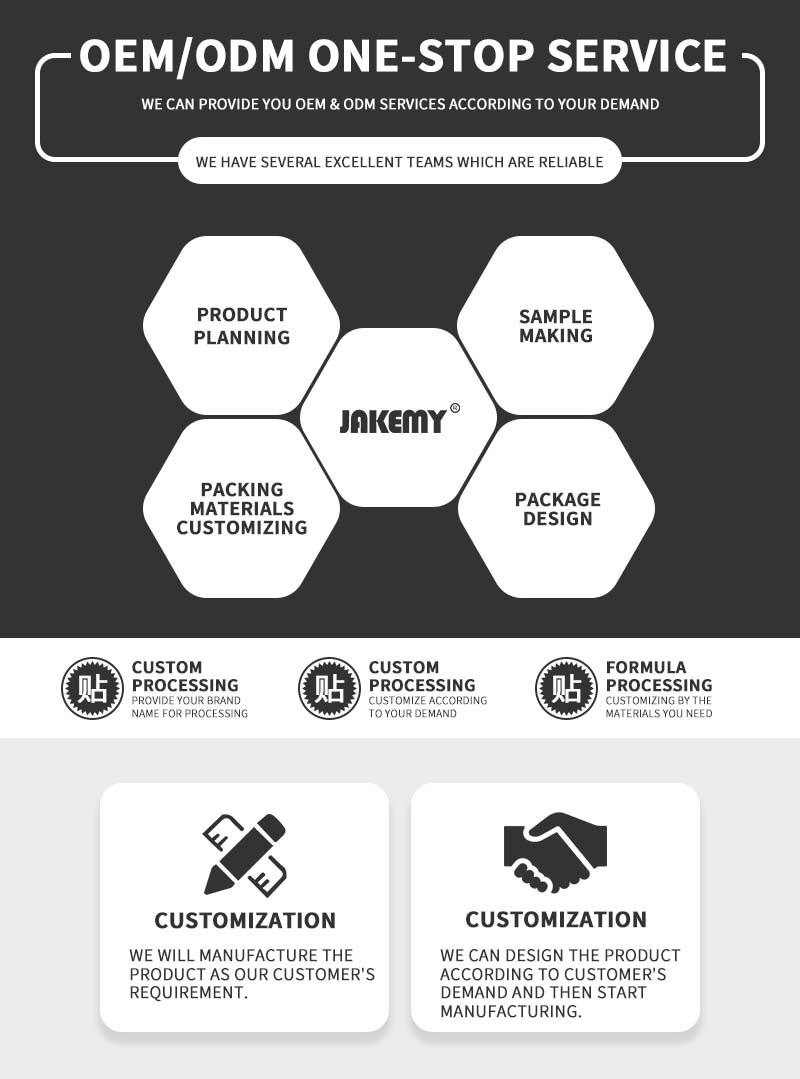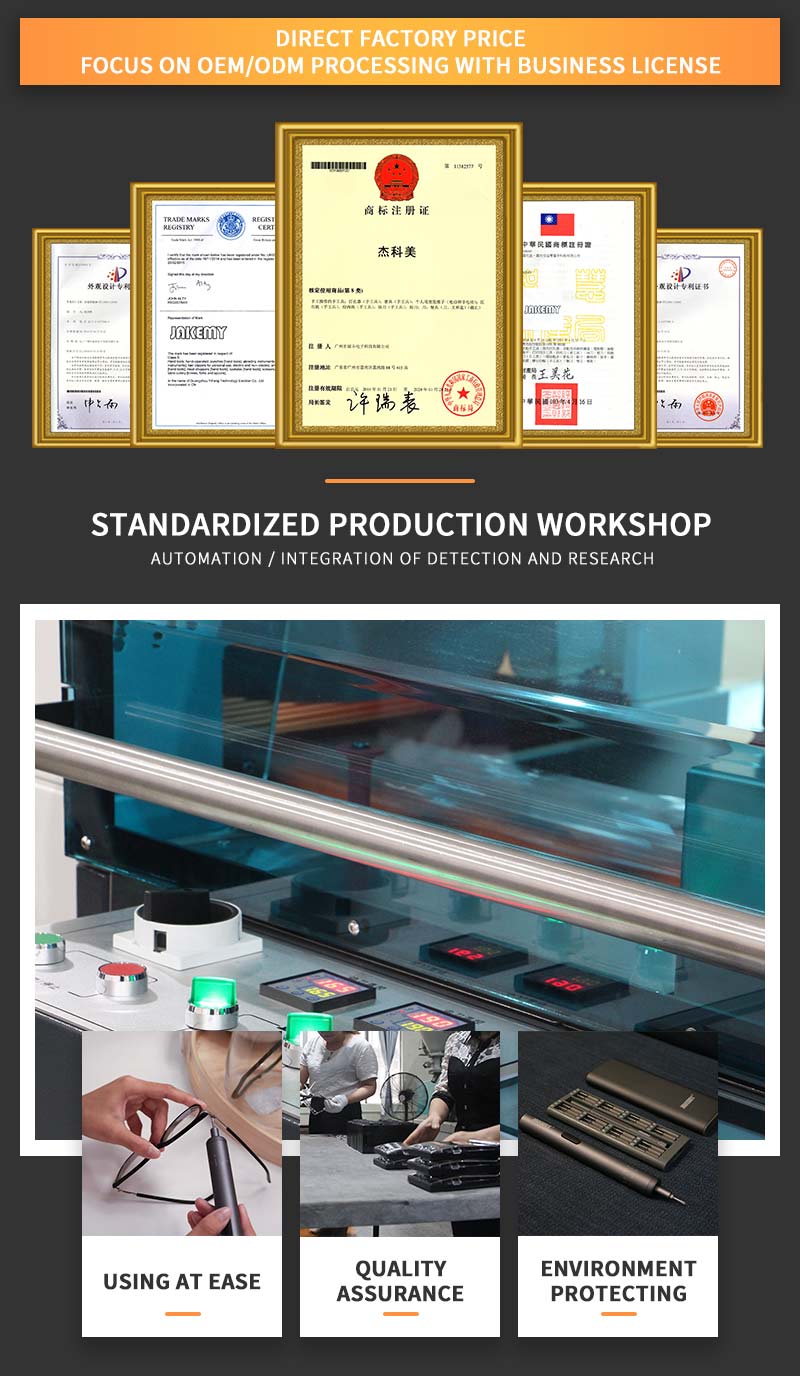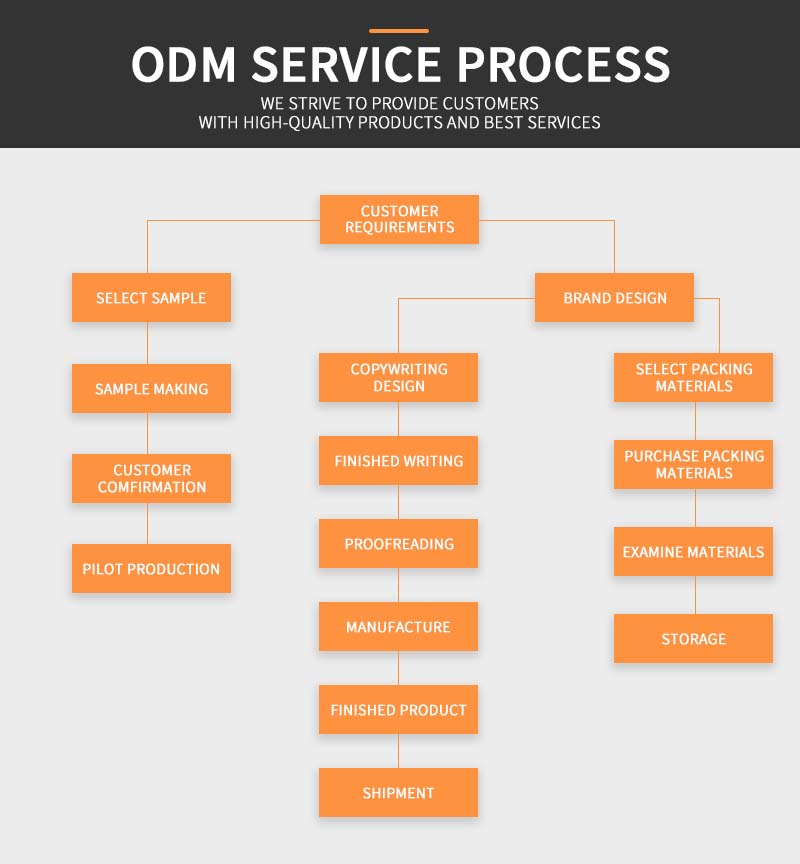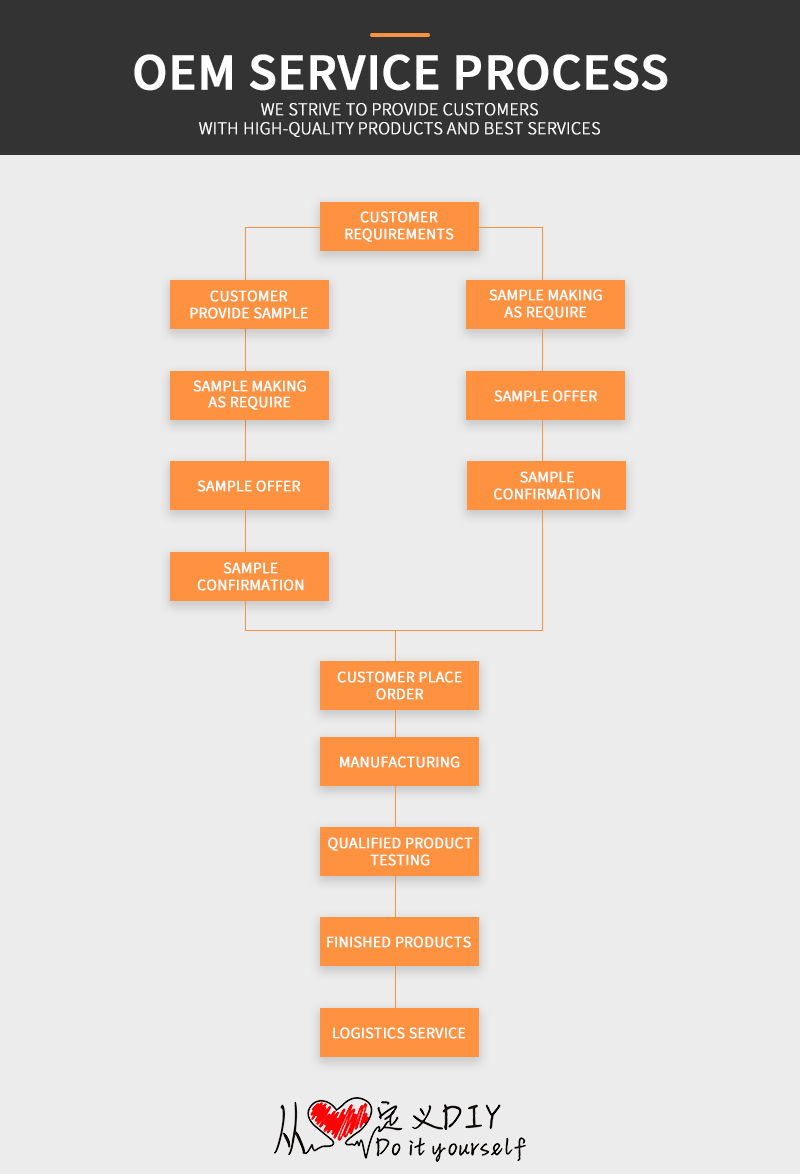 Contact us if you need more details on screwdriver set. We are ready to answer your questions on packaging, logistics, certification or any other aspects about magnetic screwdriver、phillips screwdriver. If these products fail to match your need, please contact us and we would like to provide relevant information.
Product Categories : Customized Products